Welcome to Magnificent self catering garden route accommodation on the beach
Ballots Bay Treehouse is a Garden Route hideaway a mere 7km away from the bustling town of George, Victoria Bay and Wilderness. It offers a most unique experience, in a setting where nature is treasured and respected. It is breathtakingly beautiful, and one of the most surprising and upmarket wilderness gems along the Garden Route. Ballots Treehouse features a Wood Fired Hot Tub on the top deck, where guests can emmerse themselves in nature in complete privacy.
"The first time I drove down to the bay, I was awestruck. I had to stop and adsorb this most beautiful place, where birds and fish are abundant and game roams freely. The drive down through old growth indigenous forest, with Yellowoods and Stinkwoods towering as they did a few hundred years ago, made me feel quite insignificant. A true Garden Route holiday destination unlike any other." - Pierre Theron
Ballots Bay is located within the George Private Nature Reserve, and as such is private and secure. A remote controlled and manned access boom ensures that only authorised holiday makers enjoy paradise! The rugged coastline prevents any outside pedestrian access to the bay.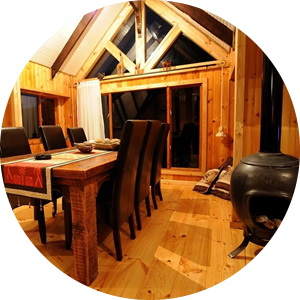 The Tree House
Surrounded by Milkwood Trees -
a most unique and private setting.
Ballots Treehouse is most unique, in that it's both a beach front home, located in a cliff side and totally surrounded by Milkwood trees. It comprises of 3 bedrooms downstairs and an open plan lounge, dining room and kitchen upstairs - connected to nature by a generous deck with a Wood Fired Hot Tub to soak up the mountain, river and seafront views. Amazing!
Take a look ->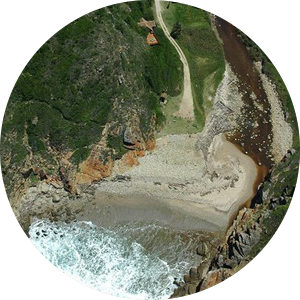 Beach & Forest
Activities in and around Ballots Bay -
it really is a hidden gem.
The Bay in Ballots Bay opens to a truly beautiful pebble beach with a lagoon on the one side and two wind protected braai areas on the other, complete with toilet and shower. Spend your day playing on the rocks, skipping stones in the lagoon or casting a line into the sea. When last did you braai ON the beach?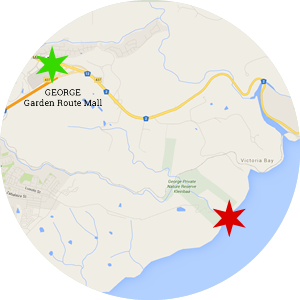 Location
Only 7km or 15 minutes to Woolies
and the Garden Route Mall.
So close and yet so remote! Locations like this usually mean an hours drive back to the nearest shop - but not here. It's only 6km to Victoria Bay with its world class surfing and swimming beach. 7km to the Garden Route Mall with everything from a Woolies to cinemas and restaurants. In the other direction its 8km to Wilderness with its long beach and beachfront restaurants.
One of the true Gems on the Garden Route - Complete with Lost Treasure!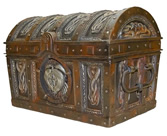 Ballots Bay is both a natural gem in its breaktaking beauty and a true treasure tale in von Mollendorf's lost treasure. History reports that in around 1788, a Prussian field marshal's son was shipwrecked in the bay and lost his iron strongbox. For many years he would come down to the bay to see if it had washed up and in subsequent years a few attempts have been made to remove the strong box from its place in the rocky reef. You can read more about this over here in Chapter 5 of South African Beachcomber by Lawrence G Green.
https://ia801601.us.archive.org/12/items/SaBeachcomber/SaBeachcomber.pdf
http://www.shipwreck.co.za/vonmollendorf.html
https://www.geni.com/people/Joseph-Wilhelm-von-Molendorf/6000000030194914159
Why not come see the bay for yourself and enjoy the gem that nature has bestowed on us. Still not convinced Ballots is for you? You can find other self catering holiday homes on the Garden Route here.