Where is Ballots Bay and whats it close to
Ballots Bay is relatively unknown and that means no crowds for you. You can enjoy the same awesome Garden Route experience - the good weather, awesome beach fun, fishing and forest walks - without the crowds.
Ballots Bay is located on the Garden Route, just outside the town of George and close to Wilderness. It is 7km away from the Garden Route Mall, 6km away from the awesome surfing and swimming beach of Victoria Bay and 8km away from Wilderness and the Kaaimans River.
You won't believe that a place which feels so remote, is actually very close to prime Garden Route activities. For example you are only 1km as the crow flies away from the acclaimed Victoria Bay! The drive is only 6km by car. This is one of the finest surfing beaches on the Garden Route and is safe for swimming too with life guards on duty throughout the summer season. You can grab a snack at the restaurant or enjoy a cold beer if there are none left in the fridge at home.
The Garden Route Mall is the closest shopping centre with everything you will ever need. It has a Woolworths for the freshest and finest foods. It has Diskem and Clicks pharmacies, many great clothing shops and even a cinema. If you need anything, you will find it at the Garden Route mall which is 15 minutes by car.

Garden Route Activities & Attractions Near to Wilderness and George
Below is a list of activities and attractions close to Wilderness and Ballots Bay that guests might typically enjoy. Whilst this is not an exhaustive list, it represents some of the more outdoorsy activities that people who like wild places like Ballots Bay might like.
If you fancy a bit of an outing and a safe swim, the following options are available to you:
Victoria Bay - has both a tidal pool and lifeguards on duty. Can get crowded in peak season and sometimes the sea can be quite large.
Kaaimans River - enroute to Wilderness and yet another beautiful tidal river system to enjoy. Hike canoes or walk towards the beach to explore.
Touws River - Drive around to the Wilderness Common side and park next to the road. This estuary has lovely warm water and is child friendly.
Herolds Bay - this is about a 20 minute drive towards Mossel Bay but one of the nicest tidal pools anywhere on our coastline. Also very busy in season.

The Outeniqua Farmers Market - Fun for the whole family, every Saturday 8am - 2pm.
http://outeniquafarmersmarket.co.za/

Visit the Railway Museum in George - Perhaps best for a rainy day!
http://www.outeniquachootjoe.co.za/
Take a Train Trip on the Diaz Express:
http://diazexpress.co.za/
Eat South Africa's Best Cheesecake - At the Hoewil Country Cafe - for real! It's a low-action kinda place in a cool one horse town.
Hoewil Country Cafe
Visit the Woodville Big Tree - Once you've finished with the cheesecake in Hoewil - drive on to the old Knysna-George Road. Follow the signs from there.
Woodville Big Tree

Wilderness Paragliding - Soar like a bird!
http://www.dolphinparagliding.co.za/
If you have young children, a lazy organic craft market with slides and swings will help you cope. It has good food and drinks too.
http://timberlakeorganic.co.za/
For older kids - go zip lining from tree to tree.
http://acrobranch.co.za/outdoor-activity-parks/garden-route/
Ride a horse through the forest! Yes you can.
http://www.blackhorsetrails.co.za/
Golf (for non members) - Ballots Tree House is situated right in the middle of Golfing Mecca. Where to play today?
http://showme.co.za/george/lifestyle/george-the-golfing-mecca-of-the-garden-route/
Quad Biking and Extreme Quad Advernture - Now you can blast your way through 15km of dirt. Shake it up a little!
https://wildx.co.za/quads/
Garden Route Oysters - Fresh and farmed oysters kept live in tanks ready for you to devour. Lemon or Tabasco? Both we say!
http://www.oystersrus.co.za/
Wilderness River Safari - Take a slow cruise on the Touw River with 8 friends. Just like a safari, but on a boat (with shade).
http://wildriversafaris.co.za/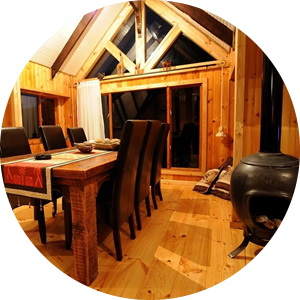 The Tree House
Surrounded by Milkwood Trees -
a most unique and private setting.
The Tree house is most unique, in that it's both a beach front home, located in a cliff side and totally surrounded by Milkwood trees. It comprises of 3 bedrooms downstairs and the open plan lounge, dining room and kitchen upstairs - connected to nature by a generous deck with mountain, river and seafront views. Amazing!
Take a look ->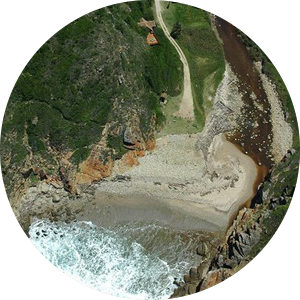 Beach & Forest
Activities in and around Ballots Bay -
it really is a hidden gem.
The Bay in Ballots Bay opens to a truly beautiful pebble beach with a lagoon on the one side and two wind protected braai areas on the other, complete with toilet and shower. Spend your day playing on the rocks, skipping stones in the lagoon or casting a line into the sea. When last did you braai ON the beach?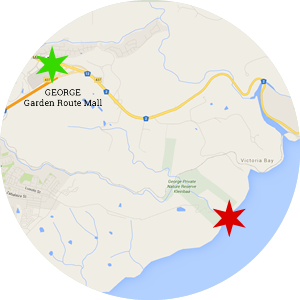 Location
Only 7km or 15 minutes to Woolies
and the Garden Route Mall.
So close and yet so remote! Locations like this usually mean an hours drive back to the nearest shop - but not here. It's only 6km to Victoria Bay with its world class surfing and swimming beach. 7km to the Garden Route Mall with everything from a Woolies to cinemas and restaurants. In the other direction its 8km to Wilderness with its long beach and beachfront restaurants.
Never Heard of Ballots Bay? A Short History...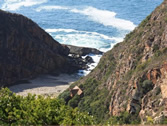 Previously called Christina Bay and renamed after Ds J.S.S Ballots, who was the first NG Church minister of George. He served the George community from 1828 for 34 years and is to this day the longest serving NG minister. Not content with being only a man of God, he was the principal architect, master engineer and the force responsible for building the historic NG Kerk - a real man of action!
It is written that he worked tirelously to establish mission stations, several schools and numerous projects to uplift the poor and would travel by ox wagon over mountains to serve - often for weeks at a time.
It is also know that he built the stone mountain pass that winds down to the Ballots Bay beach, using his own personal and meagre funds to finanace it's construction, even in times of financial difficulty.
He had big hopes that the bay would become the fishing harbour for the town of George and provide work for the local community, but the temperamental sea often prevented the boats from heading out and eventually the plan was abondoned. The natural beauty of this gem of a bay is therfore preserved as it was hundreds of years ago.
It's not clear exactly when the bay was named after him, but no doubt he deserves it.