Ballots Tree House Rates & Specials
Ballots Bay is relatively unknown and that means no crowds for you. You can enjoy the same beautiful Garden Route experience - the good weather, fantastic beach fun, fishing and forest walks - without the crowds.
Mimimum Stay of 2 nights except for School Holidays & Easter where 5 nights minimum and December Peak where 7 nights minimum stay is required.
Children 0-2 stay free
Children 3-12 pay 100% of sliding scale rate
2017 Low Season (May-Sep)
1 Adult | R1600
2 Adults | R1600
3 Adults | R1800
4 Adults | R2000
2017 High Season (Jan-Apr & Oct-Dec)
1 Adult | R1900
2 Adults | R1900
3 Adults | R2100
4 Adults | R2300
2017/2018 Peak Season (Dec-Jan Holidays & EAster)
1 Adult | R4000
2 Adults | R4000
3 Adults | R4000
4 Adults | R4000
---
2018 Low Season (May-Sep)
1 Adult | R1700
2 Adults | R1700
3 Adults | R1950
4 Adults | R2200
2018 High Season (Jan-Apr & Oct-Dec)
1 Adult | R2000
2 Adults | R2000
3 Adults | R2250
4 Adults | R2500
2018/2019 Peak Season (Dec-Jan Holidays & EAster)
1 Adult | R4200
2 Adults | R4200
3 Adults | R4200
4 Adults | R4200
---
Cleaning
Please note that there is a mandatory once-off cleaning fee of R750 which covers House Cleaning, Linen and Towels.
Garden Route Accommodation Specials
Typically, during the quieter winter months when you would rather be at home under the duvet or watching telly in front of the fire - the Ballots Bay Tree House runs a Garden Route accommodation special.
For the months of June, July and August (excluding the school holidays): Pay for 2 nights and the 3rd night is free. This special offer only applies to the first 2 nights.
To make use of this offer you will have to phone our booking office and redeem the offer via email. This won't just happen automatically, please enquire about the special before you book. We hope you make use of and enjoy the accomodation special!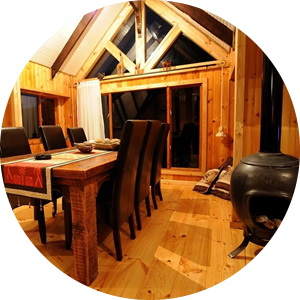 The Tree House
Surrounded by Milkwood Trees -
a most unique and private setting.
The Tree house is most unique, in that it's both a beach front home, located in a cliff side and totally surrounded by Milkwood trees. It comprises of 3 bedrooms downstairs and the open plan lounge, dining room and kitchen upstairs - connected to nature by a generous deck with mountain, river and seafront views. Amazing!
Take a look ->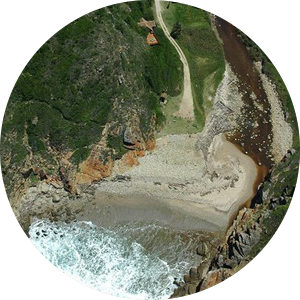 Beach & Forest
Activities in and around Ballots Bay -
it really is a hidden gem.
The Bay in Ballots Bay opens to a truly beautiful pebble beach with a lagoon on the one side and two wind protected braai areas on the other, complete with toilet and shower. Spend your day playing on the rocks, skipping stones in the lagoon or casting a line into the sea. When last did you braai ON the beach?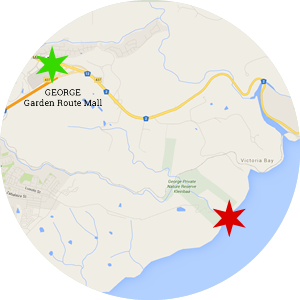 Location
Only 7km or 15 minutes to Woolies
and the Garden Route Mall.
So close and yet so remote! Locations like this usually mean an hours drive back to the nearest shop - but not here. It's only 6km to Victoria Bay with its world class surfing and swimming beach. 7km to the Garden Route Mall with everything from a Woolies to cinemas and restaurants. In the other direction its 8km to Wilderness with its long beach and beachfront restaurants.
Never Heard of Ballots Bay? A Short History...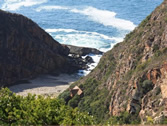 Previously called Christina Bay and renamed after Ds J.S.S Ballots, who was the first NG Church minister of George. He served the George community from 1828 for 34 years and is to this day the longest serving NG minister. Not content with being only a man of God, he was the principal architect, master engineer and the force responsible for building the historic NG Kerk - a real man of action!
It is written that he worked tirelously to establish mission stations, several schools and numerous projects to uplift the poor and would travel by ox wagon over mountains to serve - often for weeks at a time.
It is also know that he built the stone mountain pass that winds down to the Ballots Bay beach, using his own personal and meagre funds to finanace it's construction, even in times of financial difficulty.
He had big hopes that the bay would become the fishing harbour for the town of George and provide work for the local community, but the temperamental sea often prevented the boats from heading out and eventually the plan was abondoned. The natural beauty of this gem of a bay is therfore preserved as it was hundreds of years ago.
It's not clear exactly when the bay was named after him, but no doubt he deserves it.