A true wilderness accommodation on the beach in the Tree House
Ballots Bay Tree House is unique in that it's a house in the trees, on a cliff side, and on the beach. It's not possible to get closer to the beach than this in Ballots Bay - you are literally the first house on the water. It's called the Tree House, in that it ascends steeply into the canopy of the old growth Milkwood trees that are typical of the beautiful Garden Route Wilderness area.
The house looks down on the pebble beach and over the Meulen River lagoon where you can watch cormorant perform their water-ski landings. Flop down in a sun lounger on the front deck and watch dozens of species of birds soaring over the cliffs, that tower above the house. Or alternatively you can look out to sea and watch pods of dolphins play or lookout for the telltale puff of mist from a whales blow hole. This really is a great place to do nothing, all day long.
Sadly No Pets. No Smoking in the house.
Facilities & Rooms
Downstairs the Tree House has 3 bedrooms which are tastefully appointed and personally decorated. Bedding and Towels provided. Own beach towel please.
1x Double Bed en-suite with corner bath and separate toilet/basin.
1x Double Bed with double doors that open onto a shaded balcony.
1x Bunk room with 2 beds suitable for children.
1x Toilet with Washing Machine and Tumble Dryer.
Upstairs is open plan with a fully equipped kitchen with Bosch appliances, Dishwasher, Electric Oven, Thermoelectric Stove & Extractor.
Enjoy dinner inside at the 8 seater dining table with seating for 6 adults (and/or 2 children).
Sprawl on the plush full grain leather couch watching DVD's or movies or listening to your favourite CD.
Take lunch or sundowners on the deck under the large parasol.
Make a braai in the Weber on the deck (or braai on the beach below).
There is also a toilet/shower room upstairs.
Strong 3G / HSPA internet signal is accessible from the upstairs area. Please bring your own wireless router.
For the colder nights a ceramic fireplace warms the lounge and soul. Please bring your own firewood & fire starters.
Please note that pets are not allowed and no smoking in the house.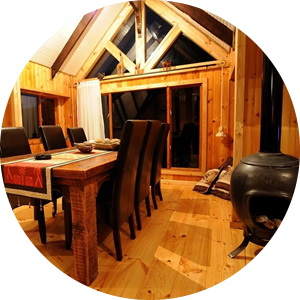 The Tree House
Surrounded by Milkwood Trees -
a most unique and private setting.
The Tree house is most unique, in that it's both a beach front home, located in a cliff side and totally surrounded by Milkwood trees. It comprises of 3 bedrooms downstairs and the open plan lounge, dining room and kitchen upstairs - connected to nature by a generous deck with mountain, river and seafront views. Amazing!
Take a look ->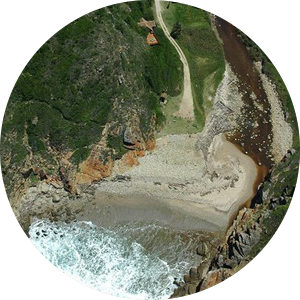 Beach & Forest
Activities in and around Ballots Bay -
it really is a hidden gem.
The Bay in Ballots Bay opens to a truly beautiful pebble beach with a lagoon on the one side and two wind protected braai areas on the other, complete with toilet and shower. Spend your day playing on the rocks, skipping stones in the lagoon or casting a line into the sea. When last did you braai ON the beach?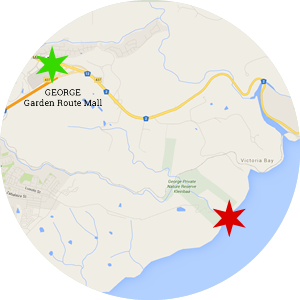 Location
Only 7km or 15 minutes to Woolies
and the Garden Route Mall.
So close and yet so remote! Locations like this usually mean an hours drive back to the nearest shop - but not here. It's only 6km to Victoria Bay with its world class surfing and swimming beach. 7km to the Garden Route Mall with everything from a Woolies to cinemas and restaurants. In the other direction its 8km to Wilderness with its long beach and beachfront restaurants.
A little bit about the Bay Area and Beach Braai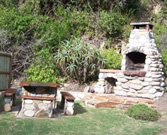 Just below the house and slightly removed is a communal braai area where residents and their guests can enjoy a braai on the beach! There are 2 different braai spots, one closer to the sea and the other slightly set back and protected from the onshore winds.
There is a clean toilet and outside shower for your convenience too. Because Ballots Bay is inside George Private Nature Reserve and therefore not accesible to the general public, you are safe and crowd free. You will meet only local residents or holiday makers and the atmosphere on the beach is friendly and relaxed. Say "Hello" and spend time chatting to happy, friendly people!